The 17 Stages of a Reduction Woodcut Print by Jean Gumpper
June 20th, 2017
The 17 Stages of a Reduction Woodcut Print by Jean Gumpper
Published on Nov 29, 2014
Artist Robert Kipniss at Fort Wayne Museum of Art
June 20th, 2017
Artist Robert Kipniss at Fort Wayne Museum of Art
Published on Mar 27, 2017
During the museum's first ever solo exhibition, dedicating all 3 galleries to a single artist, President and CEO, Charles Shepard interviews Robert Kipniss on his life and work as an artist.
Eric Goldberg video on printing Morning Light
March 28th, 2017
Creating a Print
November 24th, 2016
By Daniel Maidman, artist and novelist and Peri Schwartz
This post originally appeared as an article of the same title in the August/September 2016 issue of International Artist
Artist Peri Schwartz has worked for several years on distinctive still-lives of colored liquids in glass containers. She recently collaborated with master printmaker Greg Burnet to create one such composition as an etching, Bottles and Jars III, which has since been acquired by the Metropolitan Museum of Art, in New York.
In this article, we will discuss two topics:
1. the process through which she produced the etching
2. the etching itself as an art object
As we develop as artists, it is important to remember that, while we work hard to acquire techniques, our goal is not to know techniques. It is to make interesting art.
Several unusual terms appear in the article. The first time each one appears, it is underlined. This indicates that it appears in the glossary of terms at the end of the article.
Printmaking as an art process ranges from the basic to the extraordinarily advanced. Schwartz's and Burnet's etching technique is a very sophisticated kind of printmaking. The step-by-step presented here is not a method the beginner can expect to follow without years of training and practice – but it does point the way toward the potential of this versatile, demanding technology.
Bottles and Jars III is a color spit bite aquatint with drypoint and sugar lift done on four copper plates.
1. Schwartz showed Burnet a monotype of a proposed composition. The monotype was used as a reference for color and composition for the etching. Schwartz traced the composition from the monotype onto a copper plate and then drew over the traced lines with a drypoint needle. Burnet took the first proof. This proof served both as the black and key plate.
2. Burnet prepared the plate for a process in which he specializes: spit bite etching. Spit bite etching involves use of a brush to apply dilute acid to a prepared plate. The technique has many of the characteristics of watercolor. The liquid on the copper pools in beautiful and unexpected ways. Burnet comments, "The acid I use is ferric chloride; it bites with a much better, cleaner line than nitric acid. It turns black as it bites, so with spit biting you can see where you're going against the copper color." Burnet watched Schwartz very carefully with a stopwatch as she applied the acid. He timed how long the acid sat on the plate and wiped it off when he thought the acid had "bitten" enough. "He isn't only watching the clock," Schwartz says, "He is reacting to how my brushstrokes look. It's as if I have a coach encouraging me to keep going- 'You're doing great, that's a gorgeous puddle of acid,' or, 'You need to redo that'." Burnet then cleaned the plate and took another proof. This yielded a strong black plate with beautiful tones and the composition in place.
3. Work began on the second plate with tracing the composition onto the plate. Now Schwartz was only working on applying the yellow/orange parts of the image. Again, Burnet coached her on where to apply acid. At the end of the process, they were ready for another proof, combining the existing black with a new yellow pass. This same procedure was done for a red and a green/blue plate.
4. Revision: At this point, with all the tones in place, the image was still close to the composition in the monotype. Now something about that original composition felt wrong to Schwartz. She and Greg started covering up different parts of the proofs to find new compositions and ended up eliminating the window frame from the original monotype. Burnet encouraged her to work directly on the proofs with colored pencils, making decisions on which areas needed re-etching.
5. As they got closer to finishing, Burnet asked Schwartz to go back in with a drypoint needle to define some of the shapes. He urged her to be bold, so that the final image would have strong lines to break up the tonal areas.
6. Schwartz describes completing the etching: "The image was so close to being finished and yet we both felt something wasn't right. Here is a great example of Greg's collaboration in the process. The greens were too strong in the image and were fighting the oranges and reds. We tried lightening the greens and made them more transparent. At first I liked it and then felt it looked too washed out. So Greg came up with a perfect blue – then the etching was finished."
Daniel Maidman here. I'd like to talk with you as an art critic for a minute – it's important to consider work from this perspective throughout the learning process. I'll explain why I like Bottles and Jars III so much.
In formal terms, the clean, minimal space it occupies gives it a modernist energy, while the distribution of related but distinct warm and cool colors from left to right provides it with a wonderful sense of rhythm. This rhythm of color is echoed by a rhythm of line – thick horizontals and thin verticals repeat at irregular intervals throughout.
I also see this body of work as a response to Giorgio Morandi's still lives. Schwartz follows the same rules Morandi does: she creates a body of work through subtle rearrangements of a limited set of containers. Morandi's largely opaque, matte-surfaced bottles and cups and pitchers convey a sense of solidity and mass. Light falls on them, but it cannot pass through. There is a sense of exclusion to Morandi's work. His rules are a willful shutting out of a chaotic world, an attempt to impose order and control by reducing the elements under consideration to a very reliable few.
Schwartz's clear liquids and containers, by contrast, transmit light. They activate white light by shattering it into brilliant color. There is a vibrating excitement to them, as if they were about to take flight. Morandi's work retreats from the world, while Schwartz's reaches toward it. Her clear jars and bottles imply daylight and scenery; we can almost but not quite see everything, just by looking at this tiny slice of it.
Neither Morandi nor Schwartz is right or wrong – their opposed perspectives are both simply material for the art to build upon. The genius of an artist animates his or her basic outlook, allowing us to step into it for a moment through the window of the art.
Aquatint
A cleaned copper plate is put in an "aquatint box": a large closed wooden box with a motorized fan. The fan distributes tiny specks of rosin evenly over the plate's surface, like a coating of dust. After the rosin dust has settled, the plate is carefully heated, melting the rosin so it can adhere to the copper just to the point that it creates little mounds. Once the plate has cooled the artist paints all the areas he wants white with a varnish. This protects those areas from being "bit" when the plate is immersed in an acid bath. The acid bites channels around the rosin droplets. This procedure is repeated several times to get a variety of tones. Only the channels will hold ink or transfer it to a print – the rosin mounds and the varnish will not. What is distinctive about an aquatint is that the artist no longer has to build up tones with lines – now he can use flat shapes for tone.
Rosin
A hard resin from pine trees that is ground into particles and used in the aquatint process as an acid resistant ground.
Spit bite etching
Rosin is applied to the plate in the same process used in an aquatint. The artist then brushes dilute acid directly onto the plate, very much like a watercolor or wash drawing. Instead of immersing the plate in an acid bath, the biting happens when the artist brushes the acid directly onto the plate. This is repeated several times to get a dark tone. The way the acid pools when it is applied to the plate is unique to this method. Unlike a traditional aquatint, the tone has variation.
Sugar lift
A complex technique involving the use of a sugar syrup, asphaltum (a sticky, heavy form of petroleum), and rosin, to enhance the darkest darks of a final etching.
Monotype
The monotype is often called "the painterly print". Schwartz uses Plexiglas and paints directly onto the surface. Dampened paper is put over the image and then run through an etching press. This transfers the ink from the plate to the paper, creating the print. Because the Plexiglas is transparent, Schwartz can trace the image on the back, add more ink to the front and run the plate through the press repeatedly until the image she visualizes is complete.
Drypoint
A technique of engraving in which a sharp diamond-pointed tool is used on a plate to produce furrows that have a burr (a raised edge). The ink gets caught in the burr and a soft and velvety line is created.
Key plate
For a composition requiring multiple plates, it is necessary to have a reference plate to work back to in all subsequent plates. This is the key plate. It sets the composition in place for each successive plate, so that they overlap cleanly and produce a clear image.
Peri Schwartz has exhibited her still lives, studio interiors and self-portraits nationally for over thirty years. Her work can be found in permanent collections throughout the United States and Europe, including the Metropolitan Museum of Art, the Museum of Fine Arts, Boston, the Library of Congress, the British Museum, the Albertina and the Staatliche Museum of Berlin. She began her studies at Boston University's School of Fine Arts, and continued on to Queens College to receive her Masters of Fine Arts. She currently lives in New Rochelle, New York.
In the Loupe: Japanese Woodblock Prints
November 1st, 2016
"In the Loupe" is a series that closely examines the history, meaning, and creation processes behind the most fascinating types of collectible art and antiques.
---
Japanese woodblock prints date back as far as the eighth century BC. The printmaking process, which was much more labor intensive than modern techniques, was initially used by temple monks to reproduce and disseminate Buddhist texts more efficiently than they could be by hand.
After technological advances in the 18th century enabled printing in full color, woodblock printing as an artistic medium began in earnest. Printmakers who had previously produced monochromatic manuscripts were now able to create polychrome prints and elaborately illustrated calendars for wealthy patrons.
Despite the occasional hefty price tag, collectors around the world continue to appreciate the timeless and captivating beauty of Japanese woodblocks. To help us better understand why these fascinating works of art are so highly sought after, James J. Plumer, Appraiser of Oriental Arts at Alex Cooper, Brendan B. Ryan, Appraiser and Auctioneer at Butterscotch Auction Gallery, and Daniel Levitz, owner at Things Japanese Gallery took us further into the history, techniques, and valuation of Japanese woodblock prints.
Left: Lot 1272, "Country Holiday," "Toshogu Shrine," "Sarusawa Pond," and "Plum Gateway" (4 works)
by Hiroshi Yoshida; Right: Lot 405, "General Yorimasa" and "General Minamot" (2 works)
by Tsukioka Yoshitoshi, c. 1878, Charlton Hall (November 18)
Today's Market
Across the market, Japanese woodblock prints range in value from a few hundred dollars to upwards of a million. Exceptional works by master printmakers like Utagawa Hiroshige, Katsushika Hokusai, and Kitagawa Utamaro, which tend to make infrequent appearances on the open market, fetch impressive prices due to their age and rarity. The Hokusai woodblock print,"Fugaku sanjurokkei," from "36 views from Fiji," sold at Christie's in 2002 for a whopping $1.47 million. An Utamaro woodblock titled "Fukaku shinobu koi" sold at the French auction house Beaussant & Lefèvre in June of 2016 for $675,000.
Lot 169A, Japanese color woodblock triptych of Samurai battling in the snow,
late 19th century, Alex Cooper (November 3)
"Today, there is an enormous amount of Japanese woodblock prints available to purchase online, the great majority of which are later editions or reproductions, so there is a lot of excitement when earlier editions come up for sale," says Ryan.
The Printing Process
While woodblock prints are often attributed to a single artist, the artworks typically represent the combined efforts of four specialists: designer, engraver, printer, and publisher.
"The process of creating Japanese woodblock prints traditionally was a collaborative effort. The artist, who would have his signature on the finished print, would first execute a drawing or painting which would be the original source for the finished woodblock print," says Levitz. The engraver then took over and traced the original drawing to create a negative, in a series of woodblocks used for printing. "Sometimes multiple carvers would be used, as many of the designs used multiple blocks," adds Levitz. Polychromatic prints sometimes required as many as twenty separate woodblocks.
Lot 150C, "Cherryblossoms" by Kiyoshi Saito, 1984, Butterscotch Auction Gallery (November 6)
When it came to the actual printing of the piece, yet another artisan would be involved. In fact, there might have even been multiple printers. The printer or printers coated the block and laid a piece of paper on top of the block to generate an impression. The finished print was later distributed for sale by the publisher.
While multiple woodblocks were often used in the printmaking process, that number used does not impact the value of a print. "There are most certainly more complex designs that are successful artistically and commercially. It's the subject and quality of the design are the most important aspects of a print," says Levitz.
Masters of the Genre
Throughout the 17th through 19th centuries, the "Ukiyo-e" genre of art flourished in Japan. During this period, which translates to "pictures of the floating world," many of today's most renowned Japanese woodblock printers rose to popularity. The late 18th century is considered the golden age of Japanese woodblocks, owing to the wealth of artistic talent and a shift in subject matter. Woodblock prints of the Edo period (1615-1868) characteristically featured sumo wrestlers, famous Kabuki actors, and geisha performers. Toward the end of the 18th century, this kind of portraiture declined in popularity, replaced by a demand for romanticized landscapes and depictions of notable historical scenes.
Lot 844, "Suzukawa" by Hiroshi Yoshida, Mallams (October 27, 2016)
"Popular motifs depict Japanese culture, including female beauties, Samurai warriors, actors, and landscapes," notes Plumer. "Japanese woodblock print that portray Samurai warriors, for one, are increasingly popular at auction," says Plumer.
Perhaps the two most renowned practitioners of the woodcut, Hiroshige and Hokusai, emerged in the 19th century. Hiroshige created tranquil and ethereal landscapes, most notably in a series called "The Fifty-Three Stations of the Tokaido." Hokusai created graphically bold compositions including "Great Wave of Konagawa," which endures as one of the most celebrated works in the history of Japanese visual art.
A Contemporary Legacy
Woodblock prints have had a profound influence on the trajectory of the visual arts in Japan and throughout the West. Impressionist painters influenced by Japanese printmaking developed an aesthetic called Japonism, which fused traditional European styles with Japanese elements. Artists including Edgar Degas, Henri de Toulouse-Lautrec, and Vincent van Gogh incorporated the high-keyed contrasts, flattened perspective, and compositional strategies of Japanese woodblocks into their work.
Original Japanese woodblock print by Kawase Hasui, 1935, Things Japanese Gallery
"Prints from the shin hanga ('new prints') movement of the early 20th century are particularly sought after and have a higher probability of being from an early edition than works by 19th-century artists," says Ryan. "Watanabe is a publisher to look for – he published many of the prints by Hasui and Yoshida, who [alongside Hiroshige] are arguably two of the most collectible printmakers today."
The influence of Japanese woodblock prints continued throughout the 20th century and into the present day. Elements are evident in the flattened perspective of Pop artist Roy Lichtenstein and explicitly referenced in contemporary artist Jeff Wall's photograph, "A Sudden Gust of Wind (After Hokusai)" from 1993. The photograph, an edition of which is part of the Tate Modern's permanent collection, was based on the woodcut by Hokusai titled "Travellers Caught in a Sudden Breeze at Ejiri" (1832) from the portfolio "36 views from Fiji."
Determining Value
Value in woodblock prints is determined by a number of factors, says Ryan, but mostly by rarity and vibrancy of the impression. "Generally speaking, early editions are printed in bright, vivid colors that are very resistant to fading. Certain colors were used at certain times, so it's important to familiarize yourself with the proper tonalities one would expect. Learning the publisher's seals is also an important key to identifying early editions."
"View of Shinagawa" by Tobari Kogan, 1921, Floating World Auctions
Subject matter, he adds, is also key. "In general, landscape scenes are often much more desirable than figural ones, like portraits of kabuki dancers, actresses, and the like."
Ultimately, the best way to determine quality or worth of a woodblock print, notes Plumer, is to bring it to a museum or auction house expert that specializes in oriental art. Depending on maker and quality, the price of a print could range greatly, so getting a specialist's take is often crucial before bidding and buying.
Robert Kipniss: The Whispering Light
September 18th, 2016
Fort Wayne Museum of Art, October 29, 2016 – January 22, 2017
This exhibition features recent work by veteran American artist Robert Kipniss, a painter and printmaker for over 60 years whose subjects often include austere limbs of trees; spare, modest houses with simple shapes, and shadowy interior scenes. Although his scenes hint at the presence of human life, the absence of figures speaks to his interest in the poetry of our surroundings and the grace inherent to the unspoken atmosphere.
"If someone looks at my paintings and sees only trees and houses then they don't see what I'm doing," Kipniss has said. "I may be painting trees and houses but when I look at them – that's not what I see. I see an atmosphere, a moment, a quickly passing experience that I'm trying to capture. My art is of intensity, of delving, of exploring the soul."
The Fort Wayne Museum of Art recently acquired the archives of this preeminent American artist, an award-winning figure popular in the New York gallery world in the 70s, 80s, and 90s. His work is collected by major institutions worldwide, including The Whitney Museum of American Art, the Metropolitan Museum of Art, The Art Institute of Chicago, and The British Museum.
December 1: Curator's Tour, 12:15-1pm
President & CEO and Chief Curator Charles Shepard will take you on a gallery tour of this exhibition. From his specialized and personal point of view, Shepard offers a unique perspective as the visionary for all exhibitions at FWMoA. Tours are free with gallery admission.

Mezzotint by Holly Downing
August 6th, 2016
I thought this video by David Pascoe of Nawakum Press of me making a mezzotint might make the technique clearer for collectors who wonder why mezzotints often cost more, aren't produced faster and in greater numbers,  etc.  The video was made to accompany the artist's book A Kerosene Beauty,  with the poet Jane Hirshfield.
Collaboration: Peri Schwartz & Greg Burnet
November 1st, 2015
Peri Schwartz shares what she calls "the BEST experience in my artistic life. I generally don't use superlatives like this but working with the master printer Gregory Burnet qualifies."
Betty Merken Work Included in "Now on View" Exhibition at the Portland Art Museum
August 31st, 2015
GALLERY ARTIST BETTY MERKEN INCLUDED IN "NOW ON VIEW", AN EXHIBITION OF PRINTS AND DRAWINGS SPANNING 500 YEARS AT PORTLAND ART MUSEUM
"Now onView" celebrates extraordinary works on paper created within the past 500 years, none of which have ever been on view at the Portland Art Museum in Portland, Oregon.   Curated by Mary Weaver Chapin, Phd., Curator of Prints and Drawings, "Now on View"  highlights 58 out of the more than 1100 works on paper which have entered the Portland Art Museum's collection since 2009 (the year the Museum last devoted an exhibition to recent acquisitions of works on paper).
The impressive body of work featured in "Now on View" encompasses a broad variety of media, including woodcuts, engravings, etchings, mezzotints, lithographs, screen prints, drawings, and "Couplet",  the painterly monotype below by Betty Merken. This excellent exhibition features old master prints, nineteenth-century French and Belgian Prints with stunning examples from the invention of lithography, the etching revival, the color revolution of the 1890's and contemporary art.  Other contemporary artists in the exhibition include Magdalena Abakanowicz, Willie Cole, Sam Francis, Sol Lewitt, Pat Steir, Lisa Yuskavage and Martin Puryear.
The exhibition opened on August 8 and will run through December 13, 2015.
Betty Merken is celebrated for her painterly monotypes and for her perceptive and compelling use of color. She is especially intrigued by the many ways in which her studio practices of painting, printmaking, and assemblage can come together to create one of a kind works which push the boundaries of conventional printmaking.
"Couplet". Unique print.  Oil monotype on Rives BFK paper.  Inked, printed, and published by the artist. 21" x 24". Betty Merken.  2009.
Art Werger's "Night Fall" awarded 2015 Guanlan International Print Prize
April 15th, 2015
Art Werger's recent etching "Night Fall" has been awarded the 2015 Guanlan International Print Prize in Guanlan China. Over 4000 works were submitted from around the world from which 257 works were selected for exhibition. Of these, eleven works were selected for awards.
Mr. Werger will attend the presention at the reception in Guanlan, China on May 12th.
Night Fall Color Etching and Aquatint, 2014. 24 x 36 in. Edition: 35
Japanese Woodblock Printing with Paul Binnie
February 3rd, 2015
On Thursday, November 21, 2013, contemporary Japan-trained woodblock print artist Paul Binnie presented an illustrated talk about the historical and technical aspects of woodblock printmaking in Japan at the Toledo Museum of Art in Toledo, Ohio.
Disparate Forces Uniting As One: David Shapiro, 1944 to 2014
September 24th, 2014
artcritical, Monday July 21st, 2014
by Douglas Florian
David Shapiro (1944-2014)
David Shapiro, who died earlier this year after a long struggle with cancer, was a mentor and friend.  A fellow abstract painter, he was as generous, open, and honest as he was talented and prolific. In the thirty years or so we knew each other, I saw his work grow in depth, expressiveness, and clarity, without conforming to the latest fad, fashion, or "ism" in the art world.
Born in Brooklyn in 1944, Shapiro trained at Pratt Institute and Indiana University, where he earned an MFA in 1968, and attended the Skowhegan School of Art in Maine. He taught at several institutions, including Barnard College and Parsons.
David Shapiro at work. Courtesy of David Shapiro Studio
Continuous study and practice of Buddhism greatly influenced his work as well as his daily life.  From Asian art he embraced a great sense of stillness, as well as an appreciation of calligraphy, and a muted sense of color. Yet somehow, to me at least, there was something of New York City in his work, something
of the place where so many cultures collide. He was always alert to his immediate surroundings, be that the texture on a wall in raking light, or a pattern of clouds reflecting off a glass building at sunset. The "now" somehow seeped into the ancient.
Shapiro almost always worked in series, the titles of which reflected what he sought to achieve, what he sought to approach. In his Clearing series two adjacent squares speak to each other: dense with open, airy with watery, luminous with solemn. Despite the binary nature of the series the pieces seem to transcend dualism. The series title itself invites different meanings: a clearing in a wood, a clearing of sky, or, better yet, a clearing of mind.
Origin and Return is a large meditative series where each piece contains four distinct parts, a vertical always followed by three squares, woven together to form a unified long horizontal work.  Woven together thick lines may be followed by concentric circles, leading into watery thin lines, and finally two straight lines or a circle, or even meandering thick lines again. Intuition plays a leading role here, not logic or formula.
In the Savasan series (named for the recumbent yoga pose) six squares connect horizontally in both compelling and surprising ways. In Seer, Actor, Knower, Doer verb becomes noun, as four tall verticals join to form a square.
Shapiro sometimes referred to "allostasis" – stability through change – as a goal of his paintings and prints, with seemingly opposite or disparate forces uniting as one. I remember David relating to me how often a brushstroke on the canvas would coincide with the arc of his breath as he painted, outer connecting with inner, spiritual with material. A mark was not only an extension of his body, but of his very essence. He believed in painting as not only as expression of his self, but as a means to understand his non-self, all that wasn't David Shapiro in the universe. His poise and steadfastness in this regard enabled him to create a body of work over the years that both evolved and held together. He achieved mastery but avoided the facile or the obvious.
Despite a great and sincere modesty, Shapiro had over eighty solo shows in galleries and museums across the United States, as well as in Japan, England, and Canada. In addition to painting and drawing he created more than fifty editions of prints, often selecting Nepalese or Japanese papers of unusual texture to which he frequently added natural elements such as pumice, metal filings, marble dust, and graphite to enrich and enliven the works. His work is represented in many private, corporate, and public collections including the Museum of Modern Art, New York; the Guggenheim Museum, New York; the Smithsonian Museum of American Art, Washington D.C.; and the Aichi Prefectural Museum of Art in Nagoya, Japan.
Betty Merken – The Making of a Monotype
August 7th, 2014
A comprehensive look at Betty Merken's signature approach to Printmaking in her Seattle studio.
Kykuit Japanese Garden Tour
October 29th, 2013
On October 16th, members of the Japanese Art Society of America (JASA) toured the Japanese Garden at Kykuit, part of the Rockefeller Family Estate and the former country home of John D. Rockefeller, now a historic site of the National Trust for Historic Preservation, in Pocantico Hills, NY. The tour was hosted by JASA Board Member Cynthia Altman, Curator of the Kykuit collections.
The Garden was designed by Messieurs Ueda and Takahashi under the supervision of landscape architect William Wells Bosworth. Mr. Ueda and Mr. Takahashi trained at the Imperial Palace in Tokyo in landscaping and architecture. "A brook with stone and mortar bed flows 2200 feet, re-circulates and catches overflow from the fountains and pools of Kykuit's gardens. An estate road divides the garden into two sections. The lower portion, with a pond surrounded by flowering cherries, clusters of azaleas, pines and thread-leaf maples, is typical of a hill and pond garden. The upper section is more densely landscaped, and the brook and divergent paths form a stroll garden. Low spreading juniper and grasses cover the steep easterly bank. Shrubs and ornamental trees merge into the main lawns along the western border.1
The first Teahouse completed in 1909 (now called the Shrine) is of mahogany and originally had a thatched roof. The one large room can be divided into two sections with fusuma (sliding panels). The outer mahogany walls on three sides slide into pockets to reveal shoji (translucent latticed panels) covered in glass and silk. The shoji also slide open for viewing the surrounding gardens. In 1922 John D. Rockefeller, Jr. authorized the replacement of the thatched roof with an ornate copper roof.1
In the early 1960's Nelson A. Rockefeller commissioned David Harris Engel to redesign the upper portion of the garden. Engel had studied in Kyoto in the 1950's under Tansai Sano, a master landscape architect. The first Teahouse was moved and a new Teahouse was built on the site. The Teahouse was designed in the tradition of Sukiya-shoin style by the eminent Tokyo architect, Junzo Yoshimura (1908-1997) who had previously designed the "House in the Garden" at the Museum of Modern Art.1
Yoshihiro Terazono and Tomoko Urabe
During the tour, a demonstration of Tea was given by Tea Master Yoshihiro Terazono of the New York City Urasenke School with the expert assistance of Tomoko Urabe at the Garden Teahouse.
L. to R. Tomoko Urabe, Yoshihiro Terazono, Judy Blum and Cynthia Altman
The Japanese Garden at Pocantico Hills – Published by the Rockefeller Brothers Fund, Tarrytown, NY
Robert Kipniss Exhibition and Collection Addition
August 16th, 2013
The painting, "Summer Morning V" (above left), by renowned artist Robert Kipniss is part of an exhibition at the Heckscher Museum in Huntington, Long Island. The show is called "Recent Acquisitions" and is comprised of 24 works acquired by the Museum since 2010. The show opens Saturday, August 17, and runs until November 24.
Also, two of Mr. Kipniss'es mezzotints and the two plates they were pulled from are now in the permanent collection of the Detroit Institute of Arts.
Peri Schwartz: 'Painting Is Like Breathing for Me.'
August 7th, 2013
by John Seed Professor of Art and Art History, Mt. San Jacinto College
Huffpost Arts and Culture, August 7, 2013
Peri Schwartz, whose work is currently on view in the three-person exhibition "Dwellings" at the Gerald Peters Gallery in Santa Fe, is a formalist and a seeker of harmonies. Schwartz's compositions get their rigor from the implied presence of a grid, which she offsets and punctuates with painterly gestures and harmonies of color and value. Her most recent oils — studio interiors and still lifes of translucent bottles and jars — have the expressive vitality of perfectly executed chamber music.
I recently interviewed Peri Schwartz and asked her about her background, her development, and her artistic values.
John Seed Interviews Peri Schwartz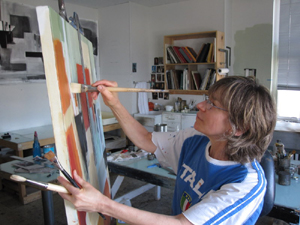 Peri Schwartz: Photo by Donna Callighan
Peri, tell me something about your family background. Are you the first person in your family to take an interest in art?
Yes, the first in my immediate family but I have a lot of cousins that are artists.
My mother has a great eye and is one of my best critics. She also encouraged me from a very early age to pursue my passion. Her house is filled with beautifully framed drawings, paintings and prints from every stage in my development.
My cousin, Gary Schwartz, lives in Holland. He has written numerous important books on Rembrandt and other Dutch artists. One of the best memories I have was the first time I visited him and his family in the lovely town of Maarssen. He took me to the Rijksmuseum and pointed out Saenredam, an artist I had never heard of. Saenredam does magnificent paintings of church interiors and is an artist I frequently return to.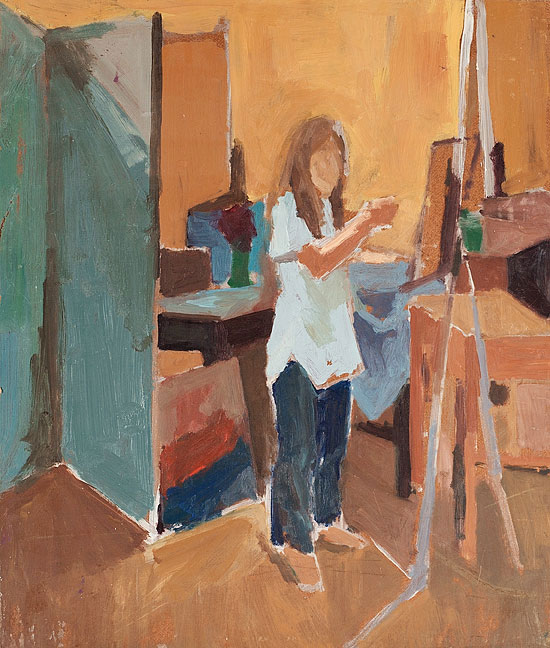 Maggie Painting, 1970, 23″ x 19″, oil on board
Tell me about your art education in Boston. What mentors made an impact on you?
Boston University's School of Fine Arts was a very serious place and I was in bliss. Our training in drawing and painting was traditional and very rigorous. Joseph Ablow taught composition and it was my favorite class. He had studied with Albers at Yale and was brilliant in demonstrating how a painting is constructed. He introduced me to Morandi, an artist that continues to inspire me.
Sometimes BU could be a bit too traditional. I was fortunate to be at a summer program BU had at Tanglewood. There I studied with Robert D'Arista, a terrific painter and teacher from American University. Unlike the teachers at BU, he wanted us to work quickly and intuitively. It shook me up quite a bit and I did some of my best student work that summer.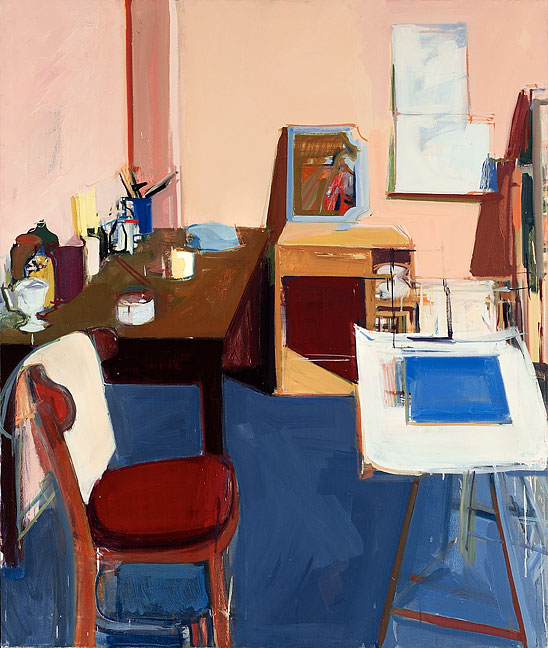 Studio, 1975, 52″ x 44″, oil on canvas
You think a bit like Vermeer: you like to turn your studio into an entire world. Tell me about that tendency and how it evolved.
I have two very vivid recollections of using the studio as a subject. The first was when I was at BU. It was dusk and I was alone in the drawing studio. I saw the easels silhouetted against the windows and did a charcoal drawing. The second time was when I had my own studio as a graduate student at Queens College. It seemed to be the perfect subject with a mirror, stool with pad on it and other painting materials. In that painting are all the things I continue to use in my studio interiors.
Yes, I look at Vermeer a lot and am especially interested in how he used the architecture of the windows as verticals and diagonals. Often the proportion of the painting or wall hanging is echoing the dimensions of the canvas. I find it fascinating that Vermeer was a strong influence on Mondrian, whose paintings are like skeletons of the Vermeers.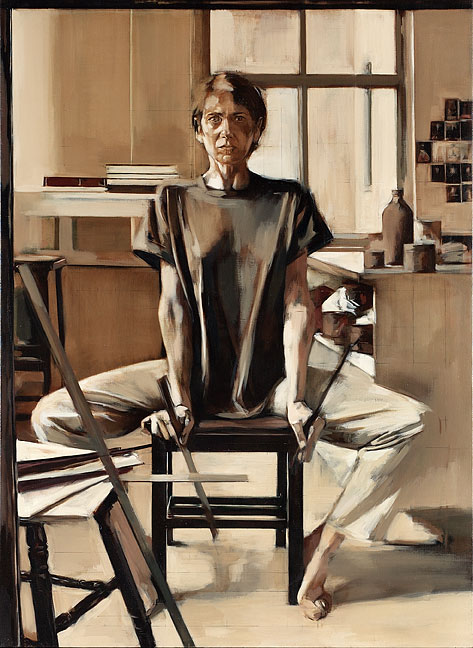 Studio Self-Portrait, 1998, 68″ x 40″, oil on canvas
You have said that the "grid is not a restriction." Can you expand on that?
I don't begin with a grid, the grid emerges. For example, in my Bottles and Jars paintings, I randomly set up the bottles and jars on the table. In trying to find the middle of the composition I measure where that will be. From there I divide it again and this is how the grid comes into play. It's a tool that helps me find the intervals. Often I will draw a line that is part of the grid, confident that it belongs where I drew it. As the painting progresses I inevitably move the bottles or jars and paint over part of the line. When the painting is done there are grid lines that weave in and out of the composition but are never uniform.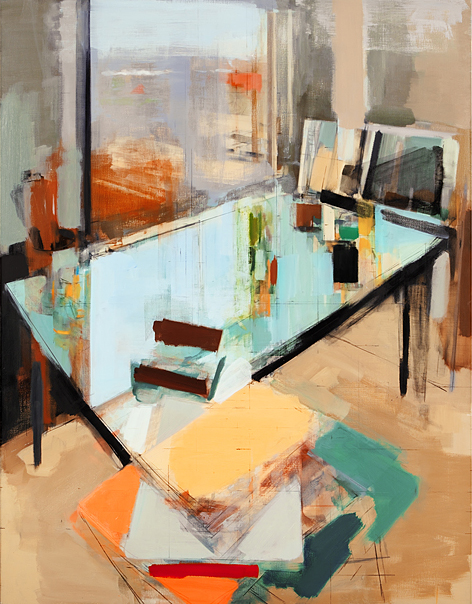 Studio XVIII, 2007, 56″ x 44″, oil on canvas
Many artists are afraid of rulers, but you aren't. Do you have a background in drafting?
No, but at BU we were taught how to use a plumb line when drawing the model. As my work developed I became more and more interested in how things lined up on that horizontal or vertical line. Instead of using a pencil I began using rulers. When I started drawing corresponding lines on the tables, floor and walls in my compositions, I needed more rulers that were longer.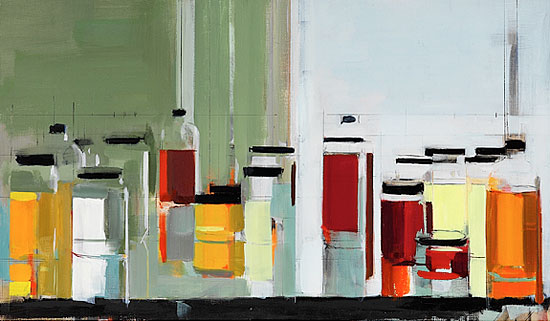 Bottles & Jars V, 2009, 20″ x 32″, oil on canvas
How do you know when a painting is finished?
For me, finishing a painting is a balancing act. I want to retain the freshness of the paint and at the same time get everything in the right position. The painting is usually finished when I can't bear to move one more object.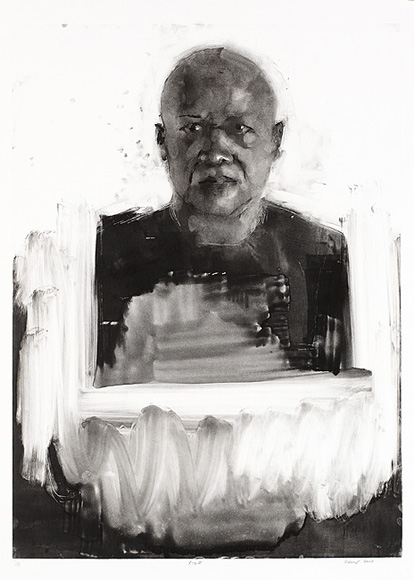 Roy II, 2012, 28″ x 20″, monotype
Although you are mainly known for still life imagery, you have done some wonderful monotype portraits. Do you plan on doing more work with the figure?
Thank you. I spent many years doing self-portraits. The portraits that I do are from people I know whose faces are interesting to me. I work directly from life and it takes me several hours to do a drawing or print. That makes it difficult to get someone to commit to posing. I am sure I will do more portraits but the timing has to be right for me and my subject.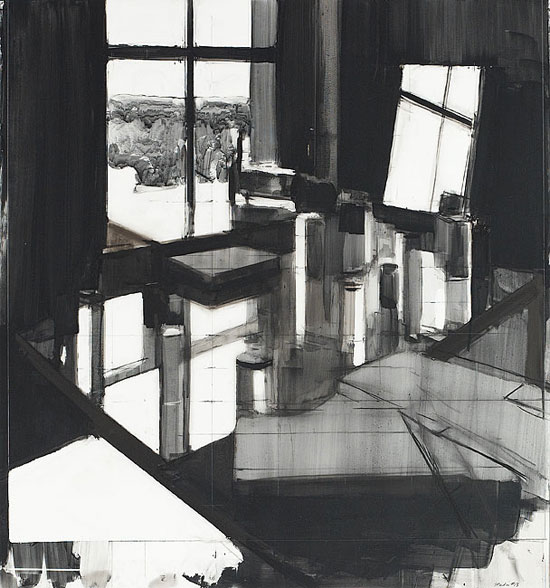 Studio #13, 2012, 30.5″ x 28″, charcoal and ink on mylar
In addition to your paintings, you create numerous black and white drawings: tell me about the importance of drawing to your artistic practice.
It has always been essential in my development to alternate between drawing and painting. There is a wonderful sense of rediscovering the materials after you have not used them for a while. I imagine drawing is like writing a poem or short story- the limitations lead to a certain kind of freedom.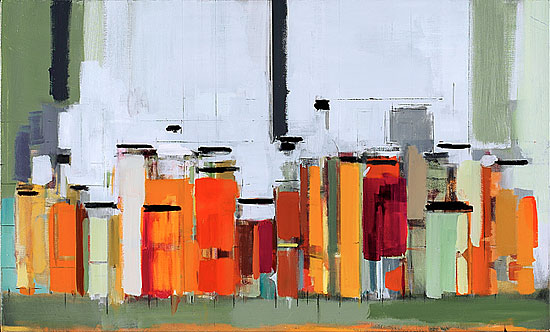 Bottles & Jars XXI, 2011, 22″ x 26″, oil on canvas
What forces are pulling you towards abstraction in your work?
From the beginning of my art education, I have been interested in the compositions of great paintings, particularly Degas, Morandi and Diebenkorn. What interests me most is how they take a subject and use it to make a brilliant composition. I tend to seesaw back and forth with paintings that are more and then less abstract. Because working directly from life is so essential to me, I can't imagine doing a painting or drawing where the viewer is left without a sense of real space. Being on that edge is where I want to be.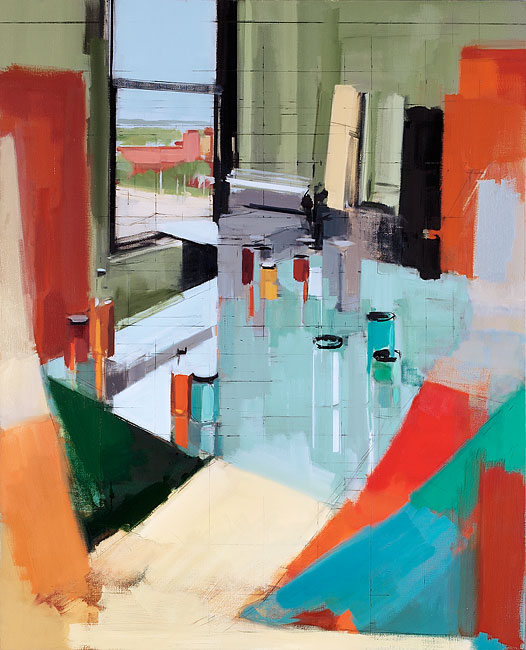 Studio XXXIV, 2013, 54″ x 44″, oil on canvas
What are your interests outside of art?
Listening to classical music, especially small ensembles, is vital to me.
I go to concerts frequently and aside from getting emotionally involved in the music, I like to watch how the musicians communicate with each other. When I am back at the studio, the relationships between my still life objects remind me of the communication I observed between the musicians.
If you could tell someone in a single sentence why you paint, what would that sentence say?
Painting is like breathing for me: I couldn't live without it.
Will Barnet Dies at 101
November 14th, 2012
We at ebo Gallery mourn the passing of celebrated artist  Will Barnet, who died at his home in New York on Tuesday. He was 101.
Here is an article from the Portland Press Herald written by Bob Keyes:
Keiko Hara – USA Project
July 2nd, 2012
Topophilia- Ma and Ki
USA Projects is a dynamic new creative community that connects people with great artists and helps them to make tax-deductible contributions to projects.
To learn more about how to support this project, please click on the link below:
Jean Gumpper: In the Shadow of the Valley of Death Valley, Part 1 & 2
March 2nd, 2012
Will Barnet – Painting at 99, With No Compromises
October 26th, 2010
Painting at 99, With No Compromises
Joshua Kristal for The New York Times
"The old masters are still alive after 400 years, and that's what I want to be," the artist Will Barnet, 99, says.
New York Times Article, October 26, 2010
By Robin Finn
Published: October 26, 2010
Propelled by a scholarship to the Art Students League, Will Barnet, an aspiring artist with a portfolio heavy on seascapes and family cat portraiture, left Boston for New York City in 1931 with $10 in his pocket. It was summer, it was hot, and besides the Depression-era garbage rotting in the streets, the air was ripe with raucous political protest. He rented a room for a $1 a night, gorged on cheap baked beans at the Automat and started sketching the forlorn and angry faces he saw on every corner. He was 19 and "radicalized" by possibility.
"I felt like Gary Cooper," he recalled, "like a cowboy in a Western movie." He roamed the city the way his idol, Honoré Daumier, had wandered through Paris; it was his muse. His style: stark, brooding social realism.
Eight decades later, hard of hearing but still tart of tongue, Mr. Barnet continues to paint every day — abstract forms, oddly hued and, as ever, deeply felt. His evolution as a modern American painter is on display this month in "Will Barnet and the Art Students League," an exhibition that honors his centennial year and his influence on generations of artists, and includes works by renowned league students and colleagues like Louise Bourgeois and James Rosenquist.
"I've seen it all but I want to see more," said Mr. Barnet, who lost the use of his left leg two years ago after a fall. "I have no opinion on what it means to be 99 except that it's different from being 19. I used to work 8, 9, 10 hours a day," he said. Now he paints three or four hours despite his inability to stand. "I didn't compromise, ever," he added. "The old masters are still alive after 400 years, and that's what I want to be."
Mr. Barnet, whose art career began with his painting self-portraits in his parents' basement in Beverly, Mass., "according to the way Rembrandt worked, with the light coming over my left shoulder," is a symbol of 20th-century American inimitability. He's the guy who abstained when the establishment went gaga over abstract expressionism ("Most of those paintings felt like accidents"). But his major works from the 1950s to '70s — abstract and figurative, Byzantine and Indian Space — now sell for up to $400,000. He has had 80 one-man shows, the most recent this spring at the Alexandre Gallery, and the Metropolitan Museum of Art, the Guggenheim and the Whitney all have his work — usually in storage. ("They don't show artists of my nature; the Whitney hasn't shown my work in 30 years," he said.)
"He took a very independent route, often in contrast to what was the popular or easy direction, but it was the art world that was contrary, not Will," said Robert Kane, an expressionist colorist painter and former student of Mr. Barnet's whose work is included in the retrospective. "There's a quote of Picasso's that is, to me, the secret of Will: 'Some people make a red dot and it's the sun; other people make the sun and it's just a red dot.' "
A fan of Picasso, Ingres and Cezanne, Mr. Barnet wanted to be a modern American painter in a 20th-century American city: the league was a Mecca for modernists. Neither his parents' indifference (his father was a machinist in a shoe factory) nor the suicide of Jules Pascin, who was to be his first teacher at the league in 1931, deterred him. "I had to be an artist and not sacrifice myself for anything but art," he recalled.
Mr. Barnet knew no one in New York, but he arrived with a letter of introduction from a friend at the School of the Museum of Fine Arts in Boston who had an Armenian uncle in the city, the surrealist artist Arshile Gorky. Mr. Barnet hiked downtown to his studio unannounced. Standing on the sidewalk, he heard shouting. He knocked anyway. Turned out Mr. Gorky was infuriated because overnight, mice had destroyed a collage that included cheese among its media.
After calming down, Mr. Gorky took Mr. Barnet for an instructive stroll, at one point stopping outside a shoe shop with a fancifully painted business sign. "Young man," he said, "there's the future of art in America." Mr. Barnet kept his mouth shut, but he has never been a fan of what would become known as Pop Art. The closest he came to being a commercial artist were the poster editions of his 1970s prints ("Woman Reading" is the best known); some editions sold for $300,000, but there were no sequels or variants.
Over the years, Mr. Barnet's work morphed from social realism to a nuanced abstraction that used flat planes of color to convey emotion and depth; in his prime, he segued from pure abstraction to pure figuration and back. As a teacher, he elevated printmaking to an art form and emphasized to painters the difference between fine art and the transfer of object to canvas.
"I never wanted to repeat myself," he says. "And that drove some art dealers crazy. I love moving on and finding fresh ways to use color and form. That's been my excitement."
He was appointed league printer in 1935 for $15 a week, and taught art there from 1942 to 1979 (Mark Rothko was his printmaking student in 1951). No canvas left his studio unless he had spent at least three years getting it absolutely, obsessively right.
"I had seen some of his paintings on the wall outside the classroom and thought, 'Here's someone who sees something no one else sees,' " said the urban muralist Knox Martin, whose work is also included in the exhibition, at the league's gallery on West 57th Street. "He was the first human being I ever met who could communicate what art was."
Mr. Barnet said he once painted Gypsy Rose Lee's portrait for rent money, though he has forgotten what she paid: $20, or maybe $50. His 1934 lithograph "Cafeteria Scene" was purchased by the league for its permanent collection. Philip Alexandre, who owns the gallery that represents him, said that over the past decade Mr. Barnet and his work have begun to experience a pleasant art establishment phenomenon — "a reassessment of value," noting: "Younger artists are discovering him, and that's key."
Mr. Barnet and his wife of 58 years, Elena, moved in 1982 from the Upper West Side to a duplex at the National Arts Club on Gramercy Park that includes his first genuine studio.
It has a full wall of two-story windows facing north. The other walls display paintings, some 15 feet high, like the austere winter portrait of his and Elena's daughter, Oona, and grandson, Will, on ice skates in Maine, circa 1980. The original pencil sketch for "Woman Reading" — a 1970 oil painting and later a popular poster — depicting Elena and their cat, Madame Butterfly, hangs in the living room. The reason for the bald spots on the walls: he lent several paintings to the league and to a show being presented at Montclair State University, where his son Peter teaches painting. Another son, Richard, is a sculptor who teaches at the league, and a third son, Todd, is a lawyer; all three were born during his 10-year marriage to Mary Sinclair, a painter.
Mr. Barnet mixes colors himself, and keeps a sheet of waxed paper over them to assure freshness. He sits beside his canvas in the wheeled office chair he relies on to get around the studio. A gigantic 150-year-old wooden easel looms behind him, unused; the wall, more accessible, now doubles as his easel. Hundreds of paintbrushes are guarded by a stuffed raven he refers to as "the early bird." He cannot climb stairs anymore, so he sleeps on a daybed in the studio; when he leaves the apartment to go out to dinner or to a gallery, he begrudgingly uses the wheelchair parked in the hall.
Mortality is on his mind.
"Let me tell you a story," he said, digging into a saucer of frozen Georgia pecans (his other favorite snack is 72 percent dark chocolate, which he discovered 50 years ago, way ahead of the curve). "My grandfather was 96 years old, and one foggy night in Beverly, Mass., he went walking and was hit and injured by a drunken driver.
"He was lying in bed dying of a fractured skull, and my father took me at the age of 6 to say goodbye to him. And I'll never forget what he said: 'Do you think it's easy to die at the age of 96?' "